Thank you for joining me for VAVEL's coverage of NK Domazle and West Ham United you can find me on Twitter @danialkennedy95 and until next time have a great evening
21:38 - West Ham at least have a goal to take back to the Olympic Stadium next week
21:37 - Crnic regained the lead after the break and it was Domazle who pretty much dominated the second half with Adrian making a excellent save at the end
21:36 - West Ham never looked up to it on the night, with Crnic gave Domazle the lead from the spot before Noble equalised
21:34 - WEST HAM HAVE BEEN DEALT A USPET they have lost the first leg to their Slovenian minnows
FT - NK Domazle 2-1 West Ham United
90' - Three minutes added time here
89' - Goalscorer Crnic is replaced right at the end by Juiniho
88' - GREAT SAVE ! West Ham broke down again as Crnic produces a lowsave and he is up quickly to block the effort from Vetrih
86' - Ball over the top sees Adrian come flying out and did well in the end
85' - Another Domazle sub as Majer is replaced by Vetrih
82' - Crnic is put through again but Noble stands firm and getsadeflection onto it
81' - Little under ten minutes left here in the contest and West Ham still trail by one goal
80' - First West Ham sub as Antonio is subbed off for Quina who is making his West Ham debut
79' - Ball over to Antonio but flag is raised as West Ham look to make a change
77' - First sub as Morel is replaced by Repas
75' - Adrian does well as he has tip an effort over the crossbar from Majer. Still 2-1
72' - Little under 20 minutes for West Ham to get back into this match, and it isnt look like a goal will be coming from anywhere any time soon
62' - Domazle celebrating their goal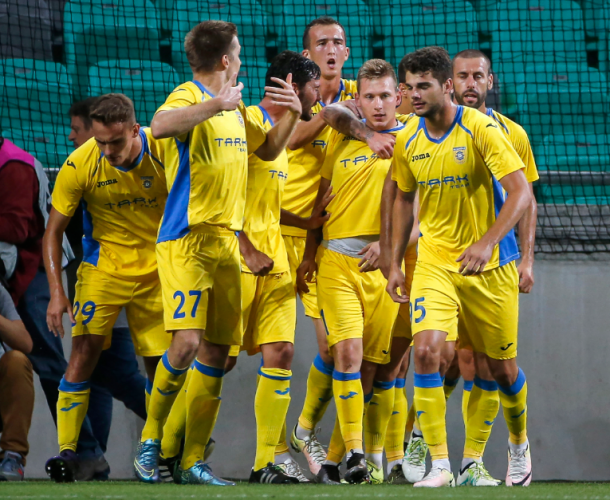 60' - Reached the hour mark in Slovenia and West Ham still trail, Noble had equalised from the spot after Crnic's own spot kick and he gave the home side the lead once again after the break
58' - Another run down the left hand side from Domazle as they try one from a tight angle and Adrian has to get a hand on it
56' - Byram makes a late run into the area but the keeper comes flying out to claim the ball. Still 2-1 Domazle
55' - Yellow card for Horvat and West Ham have a free kick in the middle of the park
49' - Valencia does well looking for an equaliser but as he lets rip the ball is blocked well in front of the keeper
48' - West Ham are behind again ! Again their defence was exposed with Antonio well out of position and Crnic was allowed space on the wing to come into area and he coolly slots home
48' - GOAL DOMAZLE 2-1 WEST HAM
48' - Noble tries it on the volley but it is striahgt at the keeper
45' - Players back on the pitch with West Ham kicking-off the second period
20:36 - A shot of Noble striking home is equalsing penalty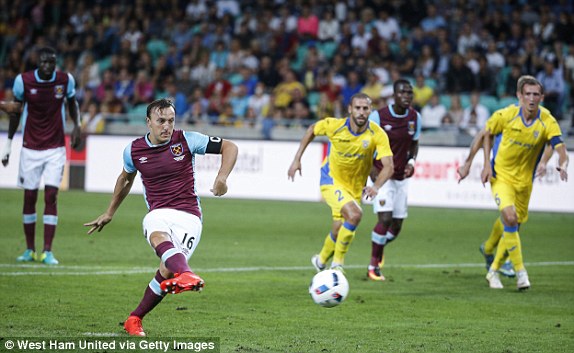 20:33 - VAVEL's coverage of the second half will follow very shortly
20:32 - All square in Slovenia, it is the story of penalties in the first half with Domazle taking the lead through Crnic before Noble equalised
HT - NK Domazle 1-1 West Ham
45' - Just one minute added time
41' - Corner headed on by Nordtveit was well over the target
38' - Morel looks to curl it in but well wide of the target
37' - Dangerous free kick as Crnic is brought down by Antonio
35' - Another dangerous ball from Feghouli looks for Carroll but wins the corner ..... the striker fluffs his lines from the resulting set piece
35' - Great ball into the area from the home side finds the head of Alvir but he somehow heads wide, should have at least hit the target from there
31' - Ball comes back to Obiang at the second time of asking but his effort is just wide of the target
30' - Little over 15 minutes until half time here, been a rusty start for the Hammers but have the crucial away goal to their advantage
29' - Defence lacking again as Crnic is allowed space out on the wing and does try the shot which whistles past the hand of Adrian and his far post
23' - Feghouli free-kick into the far post, dangerous cross but lack of intensity to get on the end of it sees the scores remain the same
21' - Foul blown up against Carroll there
17' - The Hammers have got their away goal, Noble as always stood over the penalty spot and made not mistake as he struck home GAME ON
GOAL DOMAZLE 1-1 WEST HAM
17' - Noble stands over the kick........... AND SCORES
16'- West Ham now have a penalty ! free-kick headed back into area and Reid looks to get his head to it but clattered by goalkeeper and the referee points to the spot
15' - PENALTY WEST HAM
11' - West Ham are behind ! Many would see it as a harsh decision but Crnic makes no mistake as he fires it into the top corner 1-0 Domazle
11' - GOAL DOMAZLE 1-0 WEST HAM
10' - Hammers could be trouble here as the home side get a penalty, hey break on the counter attack and the ball strikes the arm of Nordtveit and it is a penalty
10' - PENALTY DOMAZLE
9' - West Ham lads warming up ahead of tonights match, still 0-0 in the game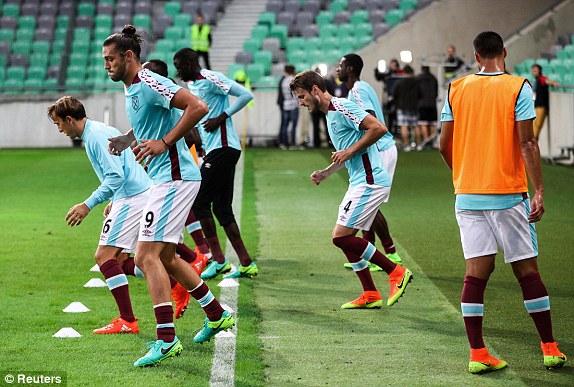 6' - Feghouli free-kick in headed by Carroll to Nordtveit but keeper punches away
5' - Free-kick to West Ham after Carroll is pulled down
4' - A cagey opening so far from both sides with either side been able to stage a decent attack
1' - NK Domazle kick-off the match
19:42 - The players are out on the pitch ahead of kick-off
19:30 - 10 minutes until kick-off in what was supposed to be the debut of the Olympic Stadium, but fans will have to wait for the return leg next week to get a glimpse of their new home
19:20 - Picture from theWest Ham Twitter shows the players wamring up with kick-off little over 25 minutes to play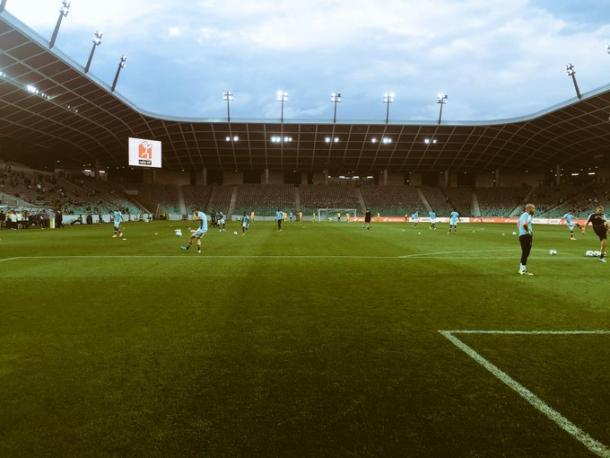 19:15 - Gokhan Tore will also miss out as the Besiktas loanee picked up a knock in training
19:13 - This will be the competitve debut for both Feghouli and Nordtveit who joined the club this summer, however one big absentee will be absenve of Aaron Creswell who has ben confirmed to be out for up to four months with knee ligament damage
19:08 - However it hasnt been the best start to pre-season for the Hammers , winning just one of their five pre-season matches with a 3-0 win over Karlsruher SC
19:06 - Many won't be aware of Slaven Bilic's opponents for tonight, NK Domazle have failed to win a domestic title since 2008, and have failed to reach the group stage of this competition
18:55 - West Ham starting XI: Adrian, Antonio, Nordtveit, Reid, Byram, Obiang, Kouyate, Noble, Feghouli, Valencia, Carroll
18:53 - NK Domazle starting XI: Marval, Balkovec, Dobrovoljc, Horic, Brachi, Horvat, Majer, Alvir, Morel, Crnic, Mance
18:47 - Team news will follow as soon as we get it
18:46 - The Hammers will be looking to make it further in this comeptiton than they did last season with group stages in sight, but a difficult trip to Slovenia stands in the way
18:45 - Hello everyone I am Danial Kennedy and welcome to VAVEL's coverage of West Ham's third-round Europa League qualifier against NK Domazle
After a 2-2 draw at what proved to be the last European night at Upton Park, it was all to play for on the continent. Lanzini gave the Hammers an early lead, but a brace from Constantin Budescu saw them crash out.

West Ham actually reached this stage of qualifying last season, when they came up against Romanian side Astra Giurgiu.
The Hammers and their upcoming Slovenian opponents have never faced off against eachother, but Bilic's side have become regular's at this stage of this European competition.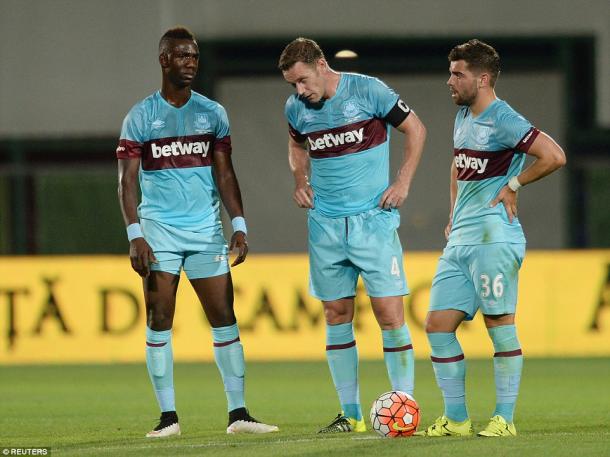 He concluded: "I made my debut in the Europa League last season" and played "two or three more and that helped me go on and play the first game in the Premier League" and "hopefully I can do the same this summer. It would be good to be part of the squad to play in the first game at the new Stadium next week too."

Oxford said: "I'm happy to be back here for pre-season now. I'm fit, because I've been involved at the U19s Euros" and wants to but "push on" and is hopeful to "play a couple of Europa League games and push on for the season."
Significant absentees could see youngster Reece Oxford, brought into the side, and the 17-year-old is relishing such an opportunity.
There are some significant absentees from Bilic's side, with the recent injuries to Manuel Lanzini and Aaron Cresswell been huge blows.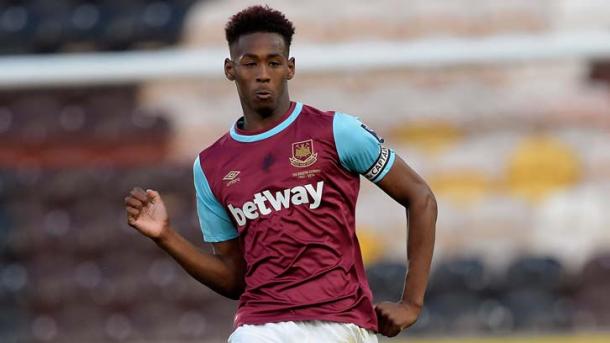 Bilic concluded: "On that level they impressed me, so we are expecting a really tough game on Thursday."
He continued: "They are a very brave team when they have the ball in the opposition half" and are "trying to play very open football" and a "modern type of football."
Bilic told whufc.com: "The opposition is good. I've seen a couple of games they have played against Shakhtyor Soligorsk and they are very organised."

They managed to claim victory in their final warm-up game, with goals from Andy Carroll, Sofiane Feghouli and Ashley Fletcher giving them the win over Karlsruher SC, and Bilic believes his side are ready for Thursday's test.
Slaven Bilic's men have traveled to both America and Austria for their preparations, but have won just the one of their five matches, with two draws and defeats.
West Ham will be hoping that they can build upon heir excellent campaign last year, with a good early start in the Europa League, but it has been a mixed bag of results in the pre-season preparations.
Hello everyone and welcome to VAVEL's live text commentary of the Europa League clash between NK Domazle and West Ham United. Kick-off is set for 7:45PM, so stick with us until then as we get the team news and build up to the match!