12:59 - Thank you for joining me for Tottenham - Atletico Madrid and utnil next time, have a great afternoon !
12:58 - It continued in the second half with Oblak making good saves from Mason and Janssen but again cant break down their opponents as they end their time in Austrailia with defeat
12:56 - Spurs pretty much dominated the majority of the 90 minutes, with Onomah hitting the corssbar and Lamela hitting the post before Godin got the only goal of the game before the break
And it is all over and Spurs suffer another defeat and will be frustrated that they have got nothing from this game
FT - Tottenham 0-1 Atletico Madrid
90' - Three minutes added time here
89' - Diedhiou leads the counter-attack and opts to shoot but his shot goes just wide of the mark
85' - Gabi gets the ball into the area which finds the head of Savic but he puts it wide, just under five minutes left here
83' - Amath does well to set himself up but Mason does well to throw himself in front of the effort
82' - Mason looks to be going through on goal but it gets away from him and it is cleared by the Atletico defence
80' - Just ten minutes to go for Spurs to get themselves back into this contest
77' - Another triple change for Spurs with McGee, Ball and Edwards all coming on. Still 1-0 Atletico
74' - Saul tries the free-kick but well wide
71' - Little under 20 minutes until full-time here and Spurs will be frustrated to get nothing from this game having all the best chances, but still Godin's strike still proves the difference
62' - Update on the Spurs subs with Miller, Chadli and Peters all coming on
61' - Janssen produces a great free kick and Oblak has to tip it behind, good spell from Spurs but still trial 1-0
60' - Subs all around with Atletico bringing on Ciao Hernandez and Juan Moreno
59' - SAVE good play from Spurs as Mason runs onto the end of a great ball and produces an excellent save from Oblak
55' - Son gets to byline and flashes ball across the face of goal but nothing comes of it, still 1-0 Atletico
51' - Son stands over the free-kick ...... but directly at the wall
47' - Free kick in a dangerous position for Atletico, short one to Thiago who puts it into the far post but nothing comes of it
45' - Three changes for Spurs at half-time with So, Carroll and Mason all coming on as Spurs kick-off the second half
12:07 - Spurs players making their way back onto the pitch for the seond period
12:05 - Second half is about to get underway here at the Melbourne Cricket Ground
11:52 - VAVEL's coverage of the second half between Tottenham and Atletico Madrid will follow very shortly
11:51 - Frsutrating half for Spurs as they had the best of the chances with Onomah hitting the crossbar and Lamela hitting the post but still find themselves behind with Godin's strike late on
HT - Tottenham 0-1 Atletico Madrid
45' - Just one minute of added time here
41' - Madrid are through again with Hector but Vickers did well to take it behind and resulting corner is over the target
40' - MADRID ARE AHEAD, Simeone's side get a free-kick against the run of play which is flicked on to Godin at the far post and the defender is on hand to flick it past Vorm 1-0 !
GOAL Tottenham 0-1 Atletico Madrid
37' - Little under ten minutes until the break here in Melbourne and it is sitll goalless here but Spurs look to be on top. Still goalless
30' - On the half hour mark and Tottenham have certainly had the better of the chances with Onomah and Lamela hitting the crossbar and post respectively, still 0-0
21' - POST Tottneham striek the woodwork again ! Lamela and Janssen combine well again as the Argentine is put through, his shot bewilders Oblak but it clatters the post
16' - Torres makes the run and looks to get the better of the defender and atttmepts to chip Vorm but is well over the mark
9' - CROSSBAR Corner is poorly headed out as it falls to Onomah who volleys it off the crossbar, best chance so far
6' - Janssen to Eriksen whose low shot decieves Oblak as it flies into the air and over the bar
5' - Corner reaches the back post but Crook does well to clear any danger away, Torres gets to the resulting corner with free header and is wide
1' - Underway here !
11;02 - Players lining up now just seconds away here !
11:00 - The players are in the tunnel and walking out ahead of kick-off !
10:50 - The players are still out on pitch warming up ahead of this clash. 10 minutes until kick-off in Melbourne
10:43 - With a little under 20 minutes until kick-off, read Brandon Sayer's preview for the game here
10:20 - Pochettino has made six changes to the side which were defeated by the Italian champions. Anton Walkes and DeAndre Yedlin come in while Harry Winks, Christian Eriksen and Erik Lamela are all handed starts aswell as Josh Onomah
10:20 - Atletico Madrid starting XI: Oblak, Vrsaljko, Godin, Savic, Filipe, Gabi, Thomas, Tiago, Saul, Hector, Torres.
10:19 - Tottenham Hotspur Starting XI: Vorm, Trippier, Walkes, Carter-Vickers, Yedlin, Wanyama, Winks, Lamela, Eriksen, Onomah, Janssen.
10:18 - Team news for both sides will follow very shortly
10:17 - Spurs will be looking back from the their 2-1 defeat to Juventus with a victory over Diego Simeone's side at the Melbourne Cricket Ground
10:16 - Hi Guys and welcome to VAVEL's live coverage of this International Champons Cup match between Tottenham Hotspur and Atletico Madrid
The two manager's today, Pochettino and Simeone, were both linked to the vacant Argentina job at the start of the week. However, each Argentinian boss has ruled themselves out, most likely due to having unfinished business at their current clubs, and wanting to take to the international stage a little later into their career's, both being relatively young bosses at present.
There is likely to be more talent entering through the door at Tottenham in the coming weeks, with manager Pochettino saying as much in his pre-match press conference ahead of today's match. "I expect some signings in the next few weeks, we will see what happens but I expect some activity."
Although Torres was most likely speaking of the more obvious young talents, such as Dele Alli and Harry Kane, there were a few even younger players that impressed in the second half against Juventus, namely attacking midfielder Marcus Edwards. He'll be hoping for another runout today, although it's likely to be in another substitute role.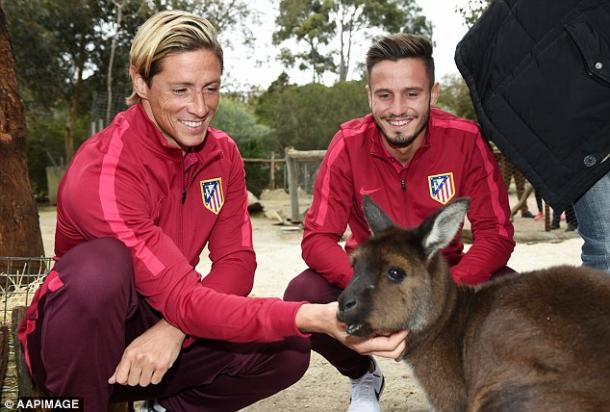 Fernando Torres is likely to start for Atleti, and has said some rather complimentary things about his opposition today, in the past week. He tipped Spurs for the Premier League title in the coming season, saying; "Pochettino is doing a great job mixing these talented young players they have with more experienced players. They're doing things really well. Last season they were really close to winning the Premier League and they are on their way, but in the future they will do it."
Spurs did play three friendlies before jetting out to Australia, all behind closed doors at their training ground, winning two and losing one. Due to this, the public have only got to see them once so far, a game that Christian Eriksen didn't get to feature in due to a virus. There were doubts over his availability for this game, but it now looks like he may well play 45 minutes. The Spurs contingent that represented England at Euro 2016 won't feature, having not flown out to take part in the tour of Australia. Atletico have played just the one friendly to date, beating Numancia 2-0 last Saturday, back in Spain. Diego Simeone has a fairly full squad to pick from, bar Antoine Griezmann (post Euro 2016 holiday) and Koke (injury).
This is Atleti's first game in the tournament this year having flown out a few days ago, but it's Spurs' second. They played Juventus on Tuesday, at the same venue as today's game is being played, but were on the end of a 2-1 defeat. Mauricio Pochettino fielded a youthful side, especially in defence, and the Lilywhites were caught cold, conceding twice in the first 15 minutes. Some half-time substitutions helped swing the pendulum back in Tottenham's favour a little, as Erik Lamela pulled one back. However, they couldn't find an equaliser, so come into this one looking to pick up their first points of the competition.
Good morning everyone, and welcome to VAVEL UK's live minute-by-minute commentary of Tottenham Hotspur - Atletico Madrid in the International Champions Cup, Australia. Kick-off at the Melbourne Cricket Ground is set for 11AM, and hopefully we'll have an exciting match to take you through today, with two of Europe's best sides coming up against eachother in pre-season.