Thank you for following with VAVEL UK, I hope you enjoyed the game and see you next time!
Full time here, Mata, Rooney and Zlatan all score for Manchester United before Smith pulled one back for the home side. Manchester United were worthy winners today and they will be delighted to have performed how they did today.
93' Just one minute left here today in what has been a very sturdy performance by the away side, De Gea pulls off a great save and De Gea is accused of comitting a foul in the penalty area but it is waved away.
89' As the game seems to be dying out in the final moments, Eric Bailey is awarded the Man of the Match award.
86' In what has been a well contested match, it took 86 minutes for the first yellow card to be brandished at Ander Herrera, Wayne Rooney is subbed off for Memphis Depay.
83' A nice bit of skill from Ibrahimovic, who skips past his man, only for his attempted pass to Mkhitaryan to be hoofed clear. Martial is substituted for Morgan Schneiderlin.
81' No true sign of a comeback by Bournemouth after pulling one back, a free-kick in a dangerous position is chipped into the box, rather than aimed at goal and United clear with ease.
77' Well Manchester United are slowly killing this game well, with a long spell of possession and pressure, as the home side seem to be fading in the summer heat.
74' Well Mata is subbed again by Jose but this time in much happier circumstances! On comes Mkhitaryan for his Premier League debut.
73' A busy period in the game here but now the game has calmed down as United look to steady themselves, with some patient play.
70' So much going on in this second half, United still lead 3-1, but Bournemouth are not out of it just yet.
GOAL!! What a stunning goal from Smith for Bournemouth, a feirce strike into the top corner from just a few yards inside the United area! 3-1.
Subs: Calum Wilson and Jordan Ibe off for Afobe and Grabben.
GOAL!! Another goal for Manchester United and this time from debutant Zlatan Ibrahimovic! He collects the ball from far out and strikes a fierce shot straight into the far bottom corner! 3-0 to the away side and Jose will be delighted.
61' Martial is fouled inside the Bournemouth D and the resulting free-kick is superbly saved by Boruc from a vicious Ibrahimovic shot.
Goal!! Anthony Martial has a scuffed volley bounce straight into the floor, but United got lucky with the ball bouncing up perfectly for Wayne Rooney who is able to head home perfectly. 2-0 to the away side.
55' A lot more urgency from the home side as they are starting to find gaps in this United backline, so far nothing has come of their half chances.
51' First chance of the half for United falls to Wayne Rooney who muscles his way past the defenders, only for his shot to well saved by Boruc. Moments later the United captain appears to take a dive in the area and appeals are waved away.
49' A crunching challenge from Bailey leaves Joshua King in a heap on the floor, but no foul was awarded and the home fans are not happy. King eventually gets to his feet.
46' And we are off here in the second half, a miskick from Eric Bailey leaves Bournemouth fans demanding a corner but the linesmen awards a free kick to the United man.
Mata's goal is the difference between the two sides today, Mata who was the focus of departure rumours last week, scores the first goal of Manchester United's new Premier League season.
And it is half time here today. A strong defensive job by United but the home side are far from out of this.
45' It as to be mentioned how good United look at the back today, it seems Jose has made defence his ethos this summer. David De Gea has yet to be called into any serious action.
43' Bournemouth look to reply instantly, but United are defending very well and making it difficult for the home side.
40' GOAL!! A poor back pass from Bournemouth captain Francis, sees Juan Mata have his intial shot saved. But the saved shot bounces off Francis and plays in Mata again and he taps into an empty net.
36' Former Liverpool man, Jordan Ibe, wins his side a free kick only for his delivery to be headed clear with ease.
33' Another corner and another grab for Boruc. It is all too easy for the keeper as Manchester United waste yet another set piece today.
30' The home crowd are getting into this game as United seem to struggle to keep possession, Eddie Howe is passionately instructing his players to keep up the pressure.
25' A very long spell of possession ends with Wayne Rooney striking the ball directly at the Bournemouth goalkeeper. A corner a few minutes later by Juan Mata is also straight at the keeper.
23' The first proper shot of the game by Anthony Matial, the Frenchmen cuts inside from his left flank before blasting wide.
21' A potential counter-attack is scuppered by United captain Wayne Rooney, after he gifts possession straight back to the home side. Lewis Cook is enjoying the first opening 20 minutes as he keeping pressure on Rooney.
18' Some sloppy passing from both sides is not allowing this game to truly ebb and flow like it could. Bournemouth do win themsevles a throw in the attacking third.
13' Well a very physical leap for the ball for Ibrahimovic, a lofted cross towards the back post sees the Sweedish striker dive at the ball and clash heads with defender Francis. Both players are ok.
10' 10 minutes gone so far and very little to speak of. The away support is in fine voice, but the home crowd are playing their part to.
7' A high pressing start from the home side today, who are pressing the defensive backline of Manchester United.
5' Some early too and fro from the two sides here, a poor touch from Luke Shaw nearly plays in Calum Wilson but the young striker blasts high and wide.
2' Some early pressure from Manchester United is ended when Rooney aimlessly pokes the ball out for a goal kick, odd decision from the Manchester United captain.
1' And we are off! Manchester United get us underway here today.
Just minutes away fron kick-off here today and the excitement is building around the stadium.
There is a question as to whether Manchester United are lacking in pace today, with only Anthony Martial possessing any true pace in the side.
Eddie Howe, however, will be looking for his side to climb the table this year, after a consolidating first season back in the top flight last year, in which they finihed 16th.
Jose Mourinho will be keen for his side to improve upon their 2-1 Community Sheild win against English Champions Leicester City. Especially with his aims of winning the title this season.
Manchester United subs: Romero, Rojo, Depay, Carrick, Rashford, Mkhitaryan, Schneiderlin.
Bournemouth subs: Federici, Gosling, Ake, Afobe, Gradel, B Smith, Grabban.
£15,000,000 million signing Jordan Ibe makes his Bournemouth debut, alongisde 19 year old former Leeds United player, Lewis Cook.
We see Bailey and Ibrahimovic make their Premier League debuts today for Manchester United, as well as Juan Mata being given a starting role after his reported fall out with Jose Mourinho.
Manchester United Starting XI: De Gea; Shaw, Valencia, Bailey, Blind; Herrera, Fellaini; Martial, Mata, Rooney; Ibrahimovic.
Bournemouth Starting XI: Boruc; Daniels, Francis, Cook, Smith; Cook, Ibe, Arter, Surman; King and Wilson.
We are just under an hour away from kick-off and team news is starting to filter in.
Last season saw both sides win at home when they faced each other, with Bournemouth winning 2-1 at home, where as Manchester United were able to pull off a comfortable 3-1 victory in the final game of the season.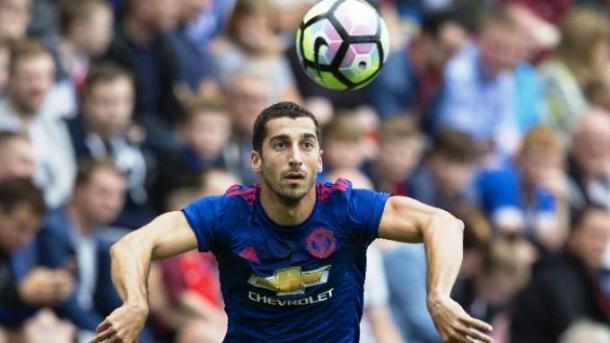 Manchester United fans have several signings that they are excited to see in the Premier League curtain opener. Zlatan Ibrahimović, who scored the winner against Leicetser at the weekend, is expected to start. Fans will also be hoping for a debut from Henrikh Mkhitaryan, who joined the club from German giants Borussia Dortmund. Eric Bailly performed very well at the weekend and is also likely to start. Paul Pogba, signing of the summer for many, won't feature due to a suspension carried over from Italy.
Fans 0f AFC Bournemouth will be looking to Eddie Howe to play their two biggest summer signings in Jordan Ibe and Lewis Cook. Ibe joined Bournemouth from Liverpool for a fee of £15,000,000. Cook joined from Championship side Leeds United for an estimated fee of £7,000,000.
As with the opening fixture of the season every year, it allows fans to see their clubs' brand new summer additions, in a light that pre-season just does not allow.
Manchester United have had a distinctively average pre-season, under Jose Mourinho, they defeated local rivals Wigan, thrashed Galatasary and then beat Leicester City last weekend in the Community Shield. They were however thumped by German outfit Borussia Dortmund 4-1 and held to a bore draw against Everton.
Bournemouth had a decent, if not spectacular, pre-season in preperation for this coming season, playing six games and winning three of them. They drew the other three. Perhaps the highlights of their pre-season was the 1-1 draw against Spanish side Valencia or the 4-0 thrashing of MLS side Minnesota United.
The home side finished sixteenth last season on their return to the top flight, with young manager Eddie Howe earning a lot of plaudits for his teams style of play. Manchester United, on the other hand. disappointed and could only finish in fifth place resulting in the sacking of manager Louis Van Gaal. The Red Devils however did go on to win the FA Cup.
Hello and welcome to VAVEL UK's live minute-by-minute commentary on the first Sunday of the Premier League season, for this match between AFC Bournemouth and Manchester United. Kick-off at Dean Court scheduled for 13:30 BST, so stick around and we will continue to build up to the game with you, with team news expected around an hour earlier.