I hope you enjoyed the live commentary of Hull City - Leicester City. I'm Noel Alberto signing off.
Jonny Walsh looks to see if Burnley, the winners of the Championship, can get their season off to a brilliant start against Swansea City. You can follow his commentary here.
Brandon Sayer is on the commentary for what should be the match of the 3PM kickoff times as Tottenham Hotspur look to follow up their strong season last year against Ronald Koeman's Everton
Pardew and Pulis battle it out as Nick Gazerro has the commentary for that match between Palace and West Brom
Follow live commentary of newly-promoted Middlesbrough's return to the Premier League against Stoke City by Sam France here
You can check out other LIVE coverages from VAVEL from these matches.
90'+5': Jakupovic with a save on Drinkwater and that ends it! The champion Foxes are downed to start the season by the roar of the Tigers! Fantastic finish!
90'+4': Mahrez lofts it in but is cleared away. 50 seconds left the clock for Hull
90'+3': Huddlestone surrnders a free kick to Leicester. Mahrez to take this one. Huddlestone was the one who fouled Gray which forced the pen.
90'+3': David Meyler picks off the ball and takes a crack from distance but sends it well over the bar.
90'+2': Leicester trying to get the ball back from Hull but the Tigers holding the ball well in their attacking half.
90': Musa fouls Snodgrass after El Mohamady takes the ball away from him.
Set to be five minutes of stoppage time.
89': Leicester trying to attack, but Musa's cross sends it well over everyone's heads.
86': Snodgrass with a brilliant sliding challenge on Musa just as the Leicester man was set to send in a cross. Hull's second goalscorer is really delivering today.
83': Clucas booked for Hull as Ulloa comes on for Simpson for Leicester.
82': Snodgrass' free kick touched away by Schmeichel. Well done from the Hull man off the tight angle.
81': Leandro Ulloa looks set to come on for Danny Simpson for Leicester.
75': Danny Simpson's cross tries to find Vardy but El Mohamady clears it away. Leicester continue their attack but Okazaki sends it long.
71': Mahrez's free kick is touched away by Jakupovic.
71': Curtis Davies in the book after taking down Okazaki. Free kick to Leicester.
68': First sub on. Shinji Okazaki is on for Demarai Gray
67': Huddlestone's free kick goes well wide.
64': Snodgrass is slow to get up after Fuchs' late challenge.
60': Snodgrass takes a free kick and it deflects on the top of the wall.
57': HULL LEAD AGAIN! Snodgrass slots it home after the ball deflects off a defender and he neatly tucks it in to the right corner!
47': Mahrez slots it home! And the match is leveled at one apiece!
47': Mahrez to take.
46': Leicester are given reprieve already as Gray is taken down to draw the pen by Huddlestone but it looked to be outside the box, but the pen is still given.
Second half kicks off.
Diomande is credited to Diomande, Hernandez has the assist.
Halftime: Hull City 1 Leicester City 0
45'+2': HULL SCORE THE FIRST OF THE SEASON! Another scramble in the box as the first effort is denied by Schmeichel before Abel Hernandez puts in the overhead! Both Hernandez and Diomande got up for the overhead and it looks like Hernandez got the touch. Absolute scenes in the KC for the BPL's most pessimistic team.
45'+1': Corner by Hull is good as Schmeichel misjudges and another corner comes out of it.
43': Once again Musa gets down the wing. He centers it for Vardy who sends it well over.
42': It's another strong run for Diomande who gets in on his favorite right foot. Instead of giving it a go, he gives it to Snodgrass who it over the bar.
41': Leicester are close! Fuchs make a brilliant run that forces Jakupovic to make a save. Ball falls to Vardy whose shot is blocked by Jake Livermore and it finally falls to Mahrez who sends it wide.
39': Diomande dances around and finds El Mohamady on the right hand side. The Egyptian sends a cross in as Diomande gets up for it but a free kick is given to Leicester.
34': Abel Hernandez takes advantage of Luis Hernandez's inability to clear and gets a shot away but it is poor.
33': Danny Simpson, the other Leicester full back, is now in the books joining Fuchs.
30': Kasper Schmeichel starts the counter as Vardy uses his pace to force Robertson to force a corner. From the corner, Drinkwater concedes a free kick.
30': Snodgrass gives it a go from distance and just sends it wide. Good effort.
29': Fuchs goes in late on Robert Snodgrass. The Austrian is the first player into the books this season.
25': A deflection off Robertson falls into the path of Mahrez who continues his run and sets it up for Drinkwater who just curls it wide!
23': Hull doing a good job denying the running room for Musa and Vardy. Mahrez with a delivery in but it is very poor.
19': Great pace shown by Ahmed Musa to get down the left-hand side. He sets it up for Vardy who can't get a clean hit but falls to Mahrez who lashes hit wide with his right foot.
18': Christian Fuchs with a good tackle in his own penalty area as it is cleared.
16': Ahmed Musa flies down the center but gets dispossessed by Tom Huddlestone who he then fouls
15': So far Leicester are dominating the possession but nothing much are coming if coming out of it.
6': Hull looking to threaten, Curtis Davies loses his man from a corner only to flick an effort wide.
3': The first shot of the season reigns in, Gray having a deflected effort drop just over the top of the net.
0: Kick-off, the PL season is underway!
It's a makeshift team for Hull, with Jake Livermore having to slot in at centre-back, rather than his normal centre-midfield position. Leicester have a strong looking team, with a very impressive looking front four.
Leicester City XI: Schmeichel, Fuchs, Hernandez, Morgan, Simpson, King, Drinkwater, Gray, Musa, Mahrez, Vardy.
Hull City XI: Jakupovic, Robertson, Davies, Livermore, Elmohamady, Clucas, Snodgrass, Huddlestone, Leyler, Diomande, Hernandez.
We've got the first teamsheets of the Premier League season in! How exciting!
Confirmed team-news should be on the way at around 11:30AM so make sure you stick around here for that first! Also, if you'd like to discuss the game with us here, be sure to follow all of our relevant Twitter profiles for the game: @VAVEL and @Leicester_VAVEL.
Also giving his thoughts on this season's opener, Hull City caretaker boss, Mike Phelan, has said that he is "looking forward" to the game despite all the off-field turmoil this summer. However, he has revealed that his players need to "turn up" and "perform" to not only overcome the champions but also preserve their Premier League status this season.
Talking ahead of his team's first match of the new season, Leicester boss, Claudio Ranieri, has stated that he is expecting a "tough" and "difficult" test at the KCOM Stadium. Regardless, the former Chelsea man has stressed that his team will be "very focused" and "concentrated" in regards to the game.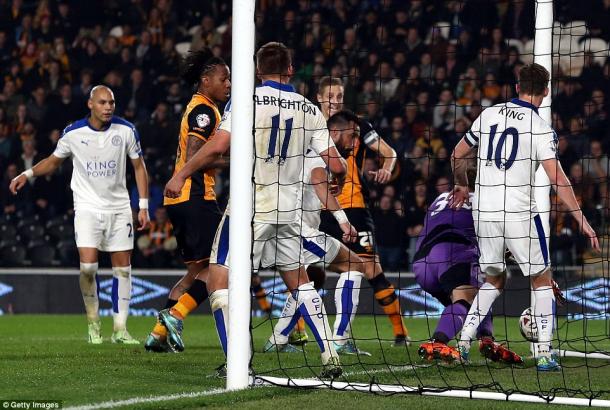 Some would be interested to know that these two teams only recently came together. Meeting in the Third Round of the League Cup last season, Ranieri's team were ruthlessly dumped out of the competition after Riyad Mahrez saw his spot-kick saved in the penalty shoot-out (ironically after giving his side the lead in extra-time, only for Abel Hernandez to level the scores).
Nonetheless, whether the teams will be fighting relegation to the second-tier or somewhat optimistically defending their title, both will be more than keen to take the first three points of the new campaign.
However, the two teams have gone in opposite directions since then. In losing their manager and not being able to bring in any new players of note, the Tigers have been installed as one of the favourites for relegation. On the other hand, the champions have spent considerably on their team and have tied down a number of key personnel, including Claudio Ranieri, to new, long-term contracts.
In an ironic scenario, both teams come into this game on the back of lifting silverware at the conclusion of the last campaign. As most will surely have not forgotten, Claudio Ranieri's Leicester City managed to hoist the Premier League trophy, defying most, if not all, pre-season critics. Conversely, Hull earned promotion back to the Premier League at the first time of asking after beating Sheffield Wednesday in the Championship play-off final at Wembley Stadium.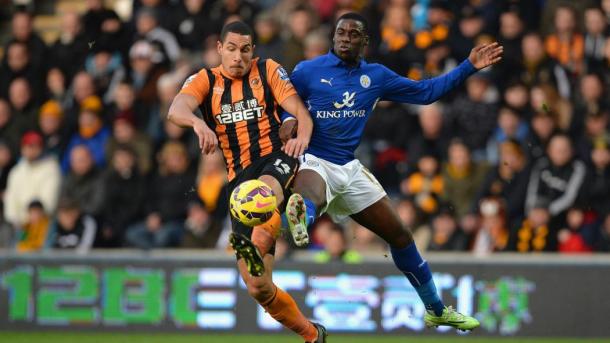 Well, it goes without saying, we should be in for an encapsulating clash in the North-East today. Travelling up to take on the newly-promoted Tigers, Premier League champions, Leicester City, are looking to get the new season underway strongly. Some say it could even be the perfect game for Claudio Ranieri's Foxes as their opponents are currently managerless and have struggled to add to the squad promoted from the Championship last season. However, it still looks to be a tough test for the East-Midlanders.
Make sure to stay tuned here all afternoon for all the build-up, team news, live commentary and reaction to the Premier League's early curtain-raiser.
Hello everyone, Noel Alberto here to give you live commentary of the first Barclays Premier League match of the year! The season kicks off with last year's champions, Leicester City, making an away trip to newly-promoted Hull City at the KC Stadium. The opening kickoff is set for 12:45 GMT so stay tuned for a preview of the match.