Danny Welbeck's 94th minute winner against Leicester City felt like a pivotal moment in Arsenal's season. They'd shown that when the pressure is on, they can fight till the end and get the result they needed.
It felt as though the confidence gained from that victory was going to push them forward and help them maintain a strong challenge for the title. At least thats what the fans would have been hoping for.
Since that match, Arsenal have lost three and draw one, scored three and conceded seven.
Wednesday's 2-1 home defeat to Swansea may have been the worst of the lot in this poor run. The gunners dominated, created multiple opportunities to score, including hitting the crossbar three times, yet they couldn't put the swans to the sword.
The confidence around the whole club is clearly very low, but there is no better game to win and lift the spirits than the North London derby.
Even the proudest Arsenal fan would fined it hard to deny that Tottenham have been an impressive outfit this season. They've maintained at fit squad and have managed to win without playing well.
But when it comes to a derby, form goes out the window. It's all about the performance and mental strength on the day. A win would move the gunners onto the same points as their rivals in second place, bringing them right back into the title fight.
Many teams have found it difficult to exploit this Spurs team, but there a few ways in which Arsene Wenger's side can make sure North London remains red after Saturday lunchtime.
Cut the supply to Kane
Harry Kane was the difference between the two sides in Arsenal's last league game at White Hart Lane, scoring twice to cancel out a Mesut Ozil goal. The England forward will again be the man stop. But his influence can be controlled if Tottenham's midfield are dealt with.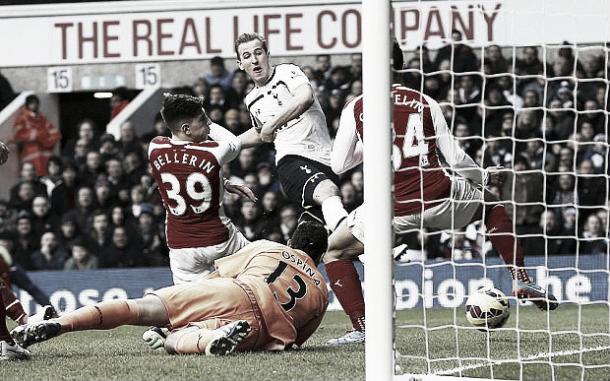 Dele Alli has been one of their best players this season, and is good at timing his runs forward to join in with attacks. One way Arsenal could stop him influencing the game would be to keep the space between the defence and the midfield as small as possible.
This would mean there would be less room for Alli to run into, and the other Tottenham midfielders, such as Erik Lamela and Nacer Chadli, who like to drift in from out wide, would be forced to play in-front of Arsenal. If this were too happen, the gunners would be able to maintain a strong defensive shape.
Counter attack quickly and with quality
One attacking quality Arsenal definitely have over Spurs is pace in wide areas. Theo Walcott, Joel Campbell, Danny Welbeck and Alexis Sanchez are lightening quick as everybody knows, but in recent games their speed has not be used enough by Arsenal to breakdown opponents.
Tottenham have pace and it starts at left back with Danny Rose or Ben Davies and at right back with Kyle Walker or Kieran Tripper. But no matter which paring is playing, they like to push very high up the pitch, not only leaving space in behind but also exposing their centre backs, who are more than likely going to be Jan Vertonghen and Toby Alderwield.
When the gunners do win the ball back, moving the ball forward at pace could be vital up against this Spurs team, who are very fit and organised.
Be Clinical
Watching all the matches since the win over Leicester City, except the game against Manchester United, it would be harsh to say Arsenal have played terrible football in every game. They continue to create chance after chance. It's the finishing that is the main issue.
They had 17 shots in the game against Swansea on Wednesday, and they missed the target with nine of them. They need to be testing the opposition goal keeper on a more regular basis.
One player whose quality has been questioned in recent matches is Walcott, who every now and the has a purple patch and can't miss the target. Saturday's game will be the perfect time to start another one of those.
Olivier Giroud hasn't scored since the 3-3 draw with Liverpool in back in January; if Arsenal are seriously going to remain in the title race then he needs to regain his shooting boots. Even Alexis Sanchez hasn't scored since the same month, in the victory over Burnley in the FA Cup.
The only positive thing for an Arsenal fan when reading those stats is that everybody know those three players can finish, they just need one to go in to end the rut.
Every North London Derby is a big one, but this could be the most significant one for a while. Win, and Arsenal's title challenge is well and truly on again. Lose, and they could be heading towards a 12th season without a Premier League title.
There's no doubting the quality within the current Arsenal team, and Saturday's game would be the perfect time for them to remind all their critics of that.